It is safe to assume that if you read this blog that you know me well (not like random people read this mess). And a well-knower of Mike knows that he has an extensive
baseball card collection
. So of course I was excited when I found out that some had combined baseball cards with another one of my interests....history of science! Someone has created a set of
scientist trading cards
. They have simply taken prolific designs from vintage cards and swapped out the homerun hitting titans for brainy equation defining behemoths.
AllTooFlat.com
(whose mascot is the mighty flounder) has posted pictures and descriptions of all 26 cards in the first series on their site. One of my personal favorites is the Albert Einstein card, which is a remake of the original 1952 Topps #311 Mickey Mantle Rookie Card (which is currently selling for $20,000).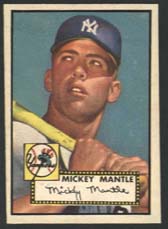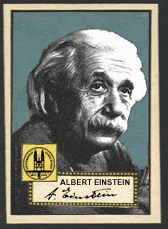 The detail in each card's design is very good. The designer has made such changes as replacing the baseball position with the scientists title (PhD in most cases), changing the baseball team name to the academic institution the scientist was tied to, changing the baseball team logo to that of the university logo, and replacing the facsimile signature of the ball player with one of the scientist.
A major baseball card brand has already done something very similar but very authentic at the same time. Topps released a stellar insert subset in its 2004 baseball release titled "American Treasures". These cards include authenticated signatures from famous figures in America's history including General Douglas MacArthur, George Patton, Orville Wright, Charles Lindbergh, Helen Keller, Mark Twain, Samuel Clemens, Thomas Edison, Alexander Grahm Bell, William Randolf Hearst, Jonas Salk, Albert Einstein, Aaron Burr, Patrick Henry, Robert Kennedy, Daniel Webster, Amelia Earhart, and Neil Armstrong.
This idea of transposing different figures onto trading cards is not a new one. The first instance of this I can remember comes from the pioneering cartoon
The Simpsons
. In Season 5 during the episode
"Homer's Barbershop Quartet"
Bart, Milhouse, and Nelson stop by Ned Flanders' booth a the Springfield swap meet:
Bart:
Oh boy! Free trading cards!
Milhouse:
Wow! Joseph of Arimathea! Twenty six conversions in A.D. 46.
Nelson:
Whoa, a Methuselah rookie card!
Flanders:
Heh heh, well boys, who'd have thought learning about religion
could be fun?
Bart:
Religion?
Milhouse:
Learning?
Milhouse:
Let's get out of here!